We Act Fast in Brookside to Restore Your Fire Damaged Home
7/22/2022 (Permalink)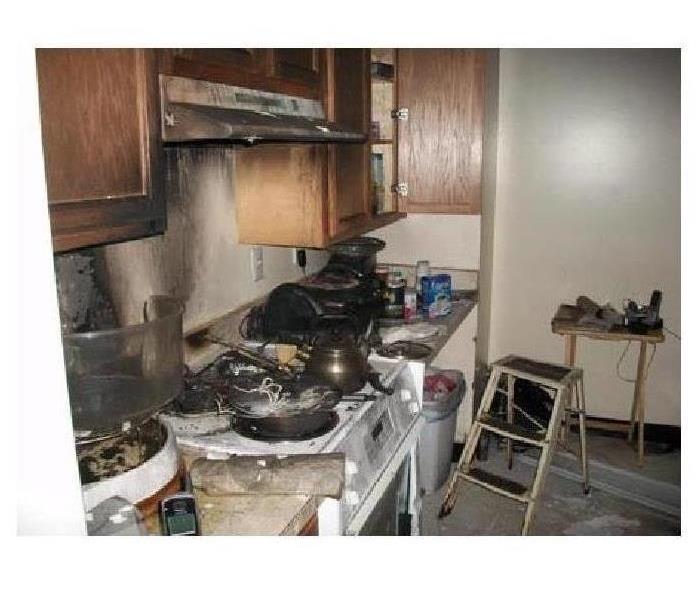 Enjoy your family gathering as SERVPRO quickly restores your fire damaged Brookside home, "Like it never even happened."
Dinner Accidents Can Leave Fire Damage Throughout Your Brookside Residence
Grease fires are not the only possible cause of fire inside your Brookside home's kitchen. Turkeys, roasts, and hams can all overcook, or basting liquids can spill over during the arrival of guests and the preparation of all the side dishes. Food prepared on the top of the stove can also catch fire if left unattended for too long.
Any food burning can produce a thick, pervasive smoke that can leave your residence in Brookside with smoke and fire damage. The SERVPRO team working on your home after such an incident is dedicated to working as efficiently as possible to get things safe and clean for you and your family. We strongly advise never to leave oven or stovetop cooking unattended. Accidents do happen.
Because we can scale our services to any size disaster, SERVPRO technicians are available to deodorize your home after such an incident, clean away smoke deposits, or tear out and rebuild areas where the fire damage destroyed walls or ceilings. Our building team works under Residential Contractor License # 1992104829 to restore your home from heat and fire's damaging and destructive effects.
Our SERVPRO crew, trained to IICRC guidelines, can utilize advanced equipment to neutralize pungent odors.
Air scrubbers with charcoal and HEPA filtration
ULV ultra-light volume chemical fogging to reach broad areas
Hydroxyl generators to recombine malodorous compounds
Ozone machines pair O3 molecules to remove odors
Counteractant slow-release beads to mask
In the case of fire damage, rapid demolition and removal of charred elements significantly reduce odors from permeating into unaffected articles, especially fabrics like drapes and clothing.
SERVPRO of Newark wants families in Ogletown, Pike Creek, and North Star to enjoy family gatherings safely. If fire damage makes this impossible, call us at (302) 733-7933.