How Does Flood Damage Impact Newark Basements?
8/29/2021 (Permalink)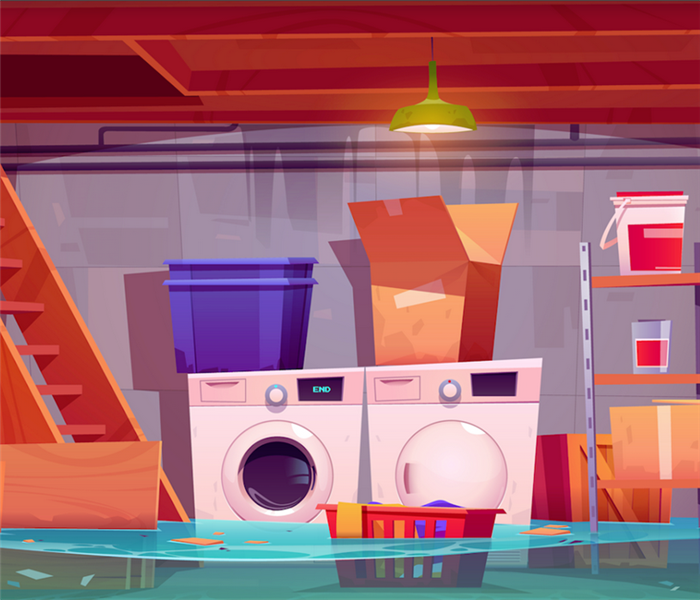 When basement flooding happens, water removal services are essential. Contact SERVPRO for certified technicians and the right equipment for the job.
SERVPRO Mitigation Stops Newark Flood Damage at the Source
Basements are among the most likely areas of a Newark home to experience flood damage. Floodwaters can come in through windows and doors, backed-up sewer lines, cracks in floors or walls, or through the sump. Even with precautions in place like a new sump pump or drainage system, these measures do not always address the sanitary concerns left behind by floods.
Flood damage removal by Newark SERVPRO restoration technicians is performed per the Institute of Inspection, Cleaning and Restoration Certifications's (IICRC) standards. This crew takes care of everything from inspections and pack-outs to mitigation and build-back services.
SERVPRO Basement Flood Restoration Services After Cleanup
SERVPRO technicians do not stop at mitigating flood water moisture with extraction tools, EPA-registered biocides, and structural drying equipment. Post-cleanup restoration tasks focus on making necessary structural and contents repairs to return a home to its pre-disaster condition.
Restoration services for a flooded basement can include:
Cleaning and sanitizing concrete to eliminate efflorescence, a chalky white bloom that can appear after moisture exposure
Replacing sheetrock and insulation in areas of the basement where these items have been removed. SERVPRO techs can also repair wall framing where necessary
Mold remediation and odor control, which may include HVAC cleaning to prevent the spread of spores or deployment of hydroxyl generators for gentle malodor removal
Repainting walls and boarding damaged windows or doorways after a flood
For "Like it never even happened," service at any time of the day or night, homeowners can call SERVPRO of Newark at (302) 733-7933.