Is Professional Mold Remediation Necessary When Colonies Appear on a Few Surfaces In My Newark Home?
6/27/2021 (Permalink)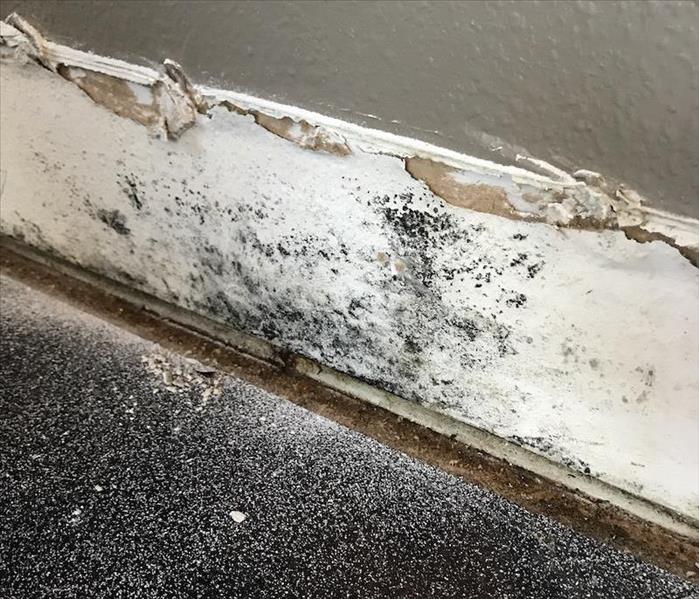 Mold growth is rapid between 24 and 48 hours. SERVPRO techs are ready 24/7 365 days a year for all types of mold remediation.
SERVPRO Helps with Mold Inspection Thus Ensuring Appropriate Removal Efforts
Noticing mold colonies on a few surfaces in your Newark home rarely reveals the true extent of the problem. Mold growth is usually more intense in dark areas, so the growth is likely to concentrate in cavity areas such as floors, walls, or cabinets. Applying home remedies may not be the best solution because mold can cause health effects.
Before embarking on mold remediation processes in Newark, it is a good practice to trace the full extent of the infestation. SERVPRO can help perform the mold inspection while preparing for remediation, so you do not have to incur extra costs. We use various approaches, including checking for moisture in hidden areas using thermal cameras and drilling holes in suspected areas, then using borescopes for further inspection.
An inspection helps provide details regarding:
Black mold
Attic mold
Bathroom mold removal
On discovering the true extent of the infestation, appropriate procedures are necessary to eliminate it. Our SERVPRO teams combine physical removal, including demolition of some of the affected areas, with chemical procedures such as applying commercial-grade cleaning agents with antimicrobial properties.
We check the materials to establish the porous and non-porous ones. Tear down is necessary for porous materials since mold hyphae penetrate beyond the surface as the mold colonies seek food sources.
Removing mold from semi or non-porous materials is possible through cleaning processes such as:
Damp wiping
Sanding
Wire brushing
SERVPRO of Newark is an experienced service provider offering comprehensive mold remediation services. Call us at (302) 733-7933 to help you resolve any infestation in your home, "Like it never even happened."