Staycations in Newark Have a lot to Offer
12/28/2020 (Permalink)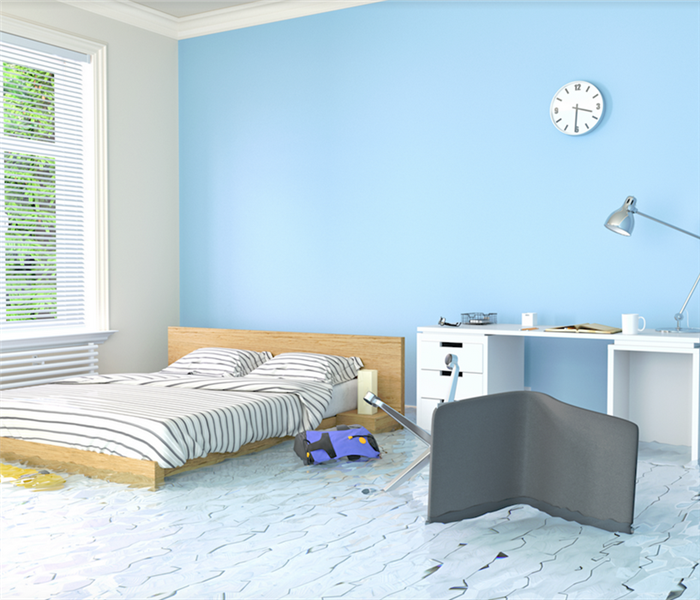 Regardless of how the excess water gains entry into your home, extraction is key. Contact our team for more information about water removal services.
Explore Newark and its Surrounding Areas and Learn More about its Origins
Newark's picturesque qualities are only rivaled by its proximity to other equally delightful towns. When you venture down Main Street for a shopping spree or only for a stroll, you find yourself in a vibrant and active college town with many things to do. If you want to explore a bit further, take a quick drive to nearby Wilmington, or explore state parks throughout the state.
Perhaps one of Newark's main reasons for being so lively is the student population the University of Delaware houses. Dating back to colonial times, three signers of the Declaration of Independence and one signer of our nation's Constitution graced the University of Delaware's campus. Furthermore, Joe Biden, 46th President of the United States, is a proud Blue Hen Alumni, class of 1965. The school's focus on academics, culture, and civic engagement can also be felt beyond its Newark Campus. Its location in Wilmington, Dover, Lewes, and Georgetown also brings vitality to neighboring communities. Although its name didn't become official until 1921, its roots can be traced to 1743, when it was known as Newark College. Today, over 23,000 students uphold the school's values and leave their mark in the world.
Relive History in Newark

Whether you are a history buff or just like capturing the occasional anecdote, there are several landmarks for you to visit while in Newark. If you like being outdoors, you can venture on the James F. Hall Trail, a paved path nearly two miles long in what used to be railroad tracks.
Its family-friendly route provides easy access to several city parks offering picnic areas and playgrounds. The Pomeroy and Newark Trail cross paths with the James F. Hall Trail and give you another route to venture on. Signs along the way explain the history of the area for all to traverse it. Among other places to visit in Newark, make sure to include-

Newark History Museum- Home of the 1877 train station in town, this museum houses several galleries that help tell the city's story from inception to today. Railroad fans may enjoy the building itself as well, and it is part of the James F. Hall Trail, so you can make it a stop along your field trip on the Trail.
The Pencader Heritage Museum- Although it operates on a limited schedule, it is an excellent resource for those interested in the Pencader Hundred. Its Cooch Room displays mementos of the Cooch family and other period pieces illustrating life at the time. In contrast, guests are also invited to view and touch the remains of an M-48 tank built in Newark by the Chrysler Corporation.
Iron Hill School No. 112C- Located a short drive from Newark, it is a one-room building recognized in the National Register of Historic Places since 1995.
Pierre S. du Pont funded the structure, and it was used for African-American students until desegregation occurred in Iron Hill in 1965.
University of Delaware Museums and Special Collections- Also worth a visit are the different collections and exhibits associated with the University of Delaware. There is much to see in its collections, celebrating the area's heritage, culture, and arts. Visit their website for updated exhibits.
Exploring Beyond Newark
Once you are done exploring Newark, or if you want to venture further, Wilmington is a great place to visit. Recognized as the largest city in the state, it is built on the site for the first Swedish settlement in the U.S. Lying on the Christina and Brandywine rivers' intersection. Thomas Penn named it in honor of his friend Spencer Compton, also known as the Earl of Wilmington.
Many do not know how important Swedish settlements were at the time Wilmington was founded. Fort Christina, the first Swedish settlement, is but one of the settlements that eventually became part of the greater metropolitan area. Others include Timber Island, Sidoland, and Strandviken, among others. Even before Swedish settlements, the Lenape inhabited the area. Much like their lands were taken over by the Swedish, the British displaced them as colonization occurred.
Perhaps one of the most famous names in Delaware history, Eleuthère Irénée du Pont, changed Wilmington's course forever when it began manufacturing gunpowder in 1802. Since then, the DuPont company continued to be essential for the military and continues to play a role in the Delaware economy today.
The Nemours Estate, the Wilmington Riverwalk, the Hagley Museum and Library, and the Delaware Children's Museum are a few of the most popular destinations in Wilmington. Just a short drive away from Newark, it is the perfect complement for residents and visitors alike.
Preserving your Newark Home
The rich history of Newark is not limited to historical sites. Many homes also hold our nation's heritage within its walls, but they are not immune to the passage of time. Whether your home is old or new, water damage repairs may be necessary if a pipe leak or stormwater makes its way into it. Luckily, SERVPRO is on-call around the clock to help our community when disasters happen.
Extracting water from a home requires a professional crew that can closely monitor humidity levels and adjust accordingly. Dehumidifiers and air movers could be detrimental to elements such as hardwood floors if timing and intensity are not commensurate with the damage. Our SERVPRO crew habitually works under challenging environments and has the track record to prove our success in restoring dwellings throughout our area.
If you want to protect your home and health, give SERVPRO of Newark a call at (302) 733-7933 as soon as the incident happens. Let our expert team arrive at your home, taking all the necessary safety precautions and working diligently until your home looks and feels, "Like it never even happened."