Flood Damaged Newark Home? Call SERVPRO!
11/19/2019 (Permalink)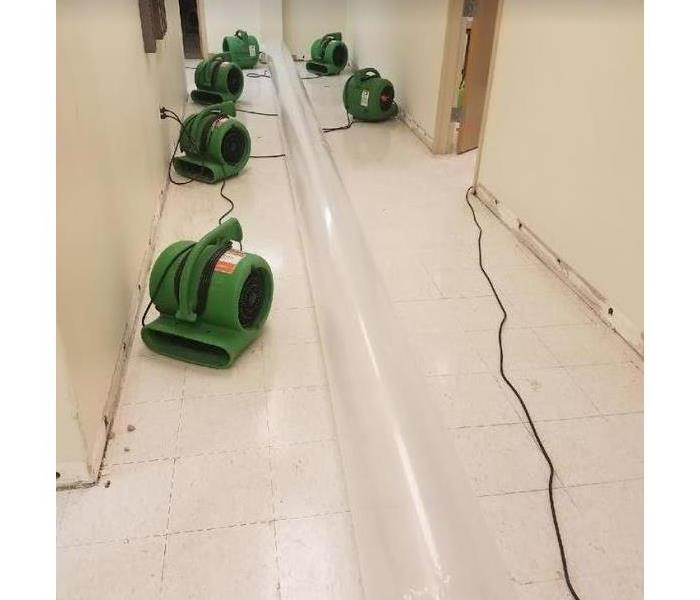 Flooding is no match for SERVPRO. We are equipped and ready at a moment's notice to restore your home.
SERVPRO Can Save Your Home from Flood Damage in Newark
Newark homes can suffer from devastating structural issues after storms swoop in that bring flood damage. Not only is there the danger of the loss of structural integrity, but there is also the saturation of your home's contents and potential contamination from bacteria and other elements found in standing water. You can protect your home by enlisting the help of trained SERVPRO technicians to bring specialized techniques and equipment to the job.
While flood damage in Newark can happen in several ways, our technicians can start by assessing the situation to determine the best place to start. Water extraction begins, and our content management team can remove any of the items from your home that are at risk of severe damage. While a fair amount of the structural damage remains unknown until a closer inspection takes place, other steps are taken to cut back on the amount of flood loss.
After removing standing water, SERVPRO technicians start to dry out all saturated materials. We have a variety of discovery devices that allow us to locate moisture in any structural supports such as joists, framing, wall studs, and other areas of your home. The degradation of critical structural elements may lead to collapse, so we work quickly to address any potential threats. Safety is undoubtedly our main priority, and we work diligently to preserve or replace key components of your home's structure.
Depending on the type of flood damage your home has suffered, our technicians may need to expose damaged materials to employ the use of specialized industrial-strength products for disinfection purposes. These products help to reduce the potential for mold growth and to prevent the spread of harmful bacteria. We can perform flood cuts as a way to access studs and framing so that dehumidifiers and air movers can get to work drying out all of the moisture that might be present.
SERVPRO of Newark understands that flooding can be very stressful and overwhelming. Give us a call at (302) 733-7933 when disaster strikes, and we can send out a team of skilled technicians as soon as possible.
More about Newark.