We Have State Of The Art Equipment In Newark To Restore Your Home
10/15/2019 (Permalink)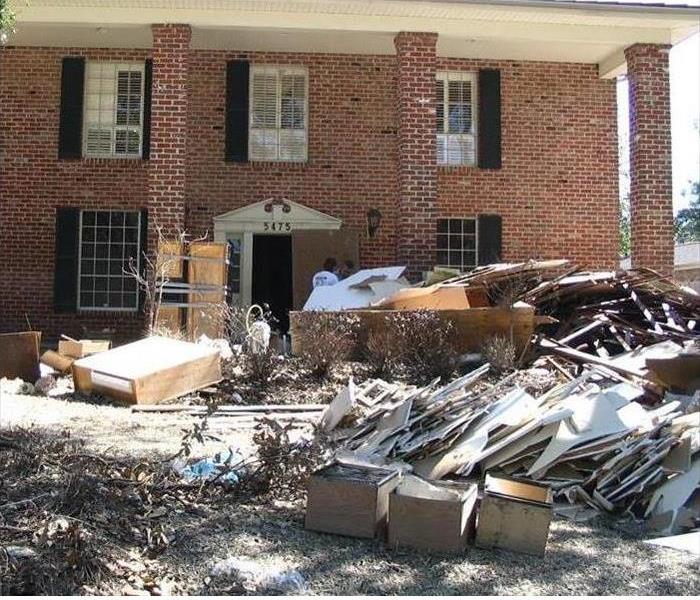 When big heavy winds came blowing through this home it was severely damaged. We had the tools and experience to restore the home right away.
Protect The Contents Of Your Newark Home With The Help Of SERVPRO Technicians
Living in Newark is unique, it's the type of place where you understand the difference between "The Beach" and "The Shore," can eat three meals a day at Wawa, or settle for saying, "I'm kinda from Philly," when someone from out of state asks where you live. It takes a unique sort of person to live in the first colony after all.
Dealing with flood damage in your Newark area home requires a unique solution as well. You want to have access to a local company that can protect your home's contents that also provides restoration services that can meet or even exceed your expectations. You have managed to locate a company with all of the personnel, equipment, and resources needed to successfully return your area property to a quality pre-flood damage condition.
No one wants to settle for less, nor should you, and while most homeowners are content with waiting for technicians to arrive, other do-it-yourself (DIY) minded folks may want to get started while they wait. We must stress that if there is any possibility of contamination in the water invading your home, that you should avoid contact and wait for a professional to confirm that it is safe.
Protect The Contents Of Your Home – You can help SERVPRO technicians prevent further damage to contents by securing loose draperies or removing scattered materials after a flood. Items such as books, papers, boxes, area rugs, and shoes can all leave stains behind if not handled correctly. Check all storage areas, such as closets, stairwells, or under your beds for any items that may cause problems.
Always avoid causing additional flood damage to carpeting, vinyl, or hardwood flooring by leaving the appliances, furniture, and heavy lifting to the professionals.
Extraction Of Excess Water – SERVPRO uses both extraction and evaporation to remove standing water from your home. However, it doesn't hurt to throw down some towels or activate a sump pump before help arrives. Just remember that the professionals have the most efficient way to remove excess water, so don't plan on putting much of a dent in this before help arrives.
Gain additional humidity control by ventilating the structure by opening doors and windows.
When your SERVPRO of Newark team arrives, we can utilize various equipment to accelerate the drying process and help remove all of the damaged materials and contents. Call any time, 24-hours a day, 7-days a week for full-service cleanup and restoration services. (302) 733-7933
See more about Newark.