How Fast is Professional Water Removal?
2/25/2021 (Permalink)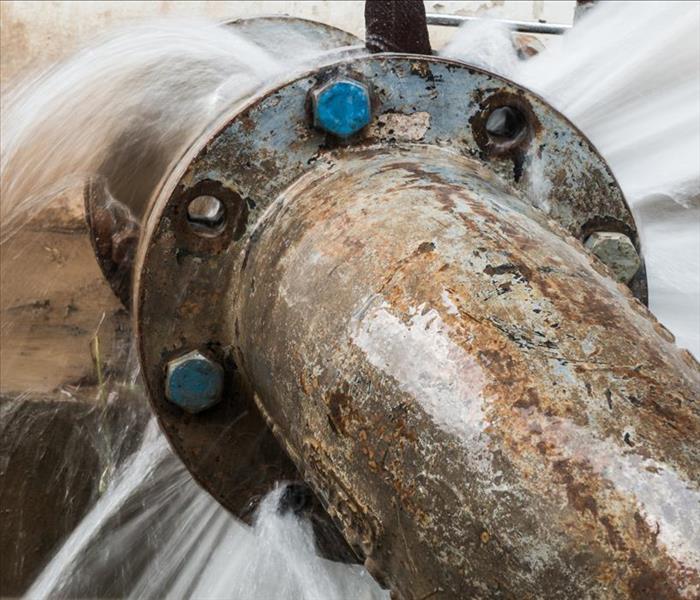 When a pipe burst in your place of business, SERVPRO is the team of professionals to call. Let their techs handle the water restoration service needed
SERVPRO arrives quickly to bring your Newark business back to life using proven water cleanup methods
There is a lot to love about Newark, Delaware, including friendly neighbors, lovely landscapes, and rich history. This city is located in New Castle County, where you will find a population of over 31,000 and the proud home of the University of Delaware.
Immerse Yourself in Some Newark History
In 1694, Newark got founded by Welsh and Scots-Irish settlers. Later on, the town was officially established in 1758 when it received a charter from Great Britain's George II. Throughout history, Newark is known for the schools playing a significant role in the region's crafting. For example, Newark Academy was founded in 1743 as a grammar school where some of the first graduates were three of the people who signed the Declaration of Independence. These signers included James Smith, Thomas, McKean, and George Read. Both McKean and Read then went on to have educational institutions named after them: Thomas McKean High School and George Read Middle School.
Newark, Delaware, is Loaded with Great Things to Do and See
Are you looking to get in a little bit of shopping when you are in Newark? Maybe you are a bit of a nature buff, and you want to explore local parks? No matter what is on your schedule, there is enough for everyone to see and experience visiting the area. Because of all of the excellent attractions, shopping centers, restaurants, and event locations, many people are starting to migrate to the region to call it home.
Some great attractions to put on your must-do list include:
Newark Reservoir – Whether you are looking for a nice place to walk the dog, head out for a run, or take in some fresh air, this natural wonder located on Old Paper Mill Road is a real find. You will have a 1.2-mile paved path throughout the reservoir and a lot of opportunities for wildlife sightings.
White Clay Creek State Park – Situated on New London Road, this state park features beautiful trails immersed within a lush natural setting. There is also a tri-state trail on-site where you can hike through portions of Delaware, Maryland, and Pennsylvania.
Aunt Margaret's Antique Mall – Located on East Main Street, this is a fun shopping experience where you will find a broad selection of antiques, gifts, and vintage jewelry.
Rapid Water Cleanup Calls for Professional-Grade Equipment, Call SERVPRO to Your Newark Business
Once your Newark retail space has a pipe burst and it sends standing water throughout the interior, you need rapid cleanup. Skilled SERVPRO technicians arrive with powerful extraction equipment to get the job done. Water cleanup in unison with drying techniques and deodorization ensures your business is left Certified: SERVPRO (IICRC) Clean!
When we arrive at your commercial location for water cleanup in Newark, some of the tools that we may use include:
Pumps – Great for removal or water higher than two inches deep
Extractors – Perfect for handling the cleanup of upholstery and carpeting
No job is too big or too small, and we can handle your commercial water cleanup needs in a flash. Call SERVPRO of Newark at (302) 733-7933, and we send out a crew as soon as possible to get to work.